Monday, May 4, 2020 - 4:05pm
RIT student John Fox credits his time in the U.S. Marine Corps for teaching him about accountability, focus, and dedication—all while developing his passion for logistics and supply chains.
Fox, who is graduating with a bachelor's degree in supply chain management from RIT's Saunders College of Business, will begin his career in July as an area manager in Amazon's Fulfillment Center in Rochester. Leading a team of roughly 100 employees, he will be responsible for several areas of the center including receiving, sorting, packing, and shipping, among others, and ensuring that the daily quota is met or exceeded. He is also looking forward to building strong professional relationships with his coworkers.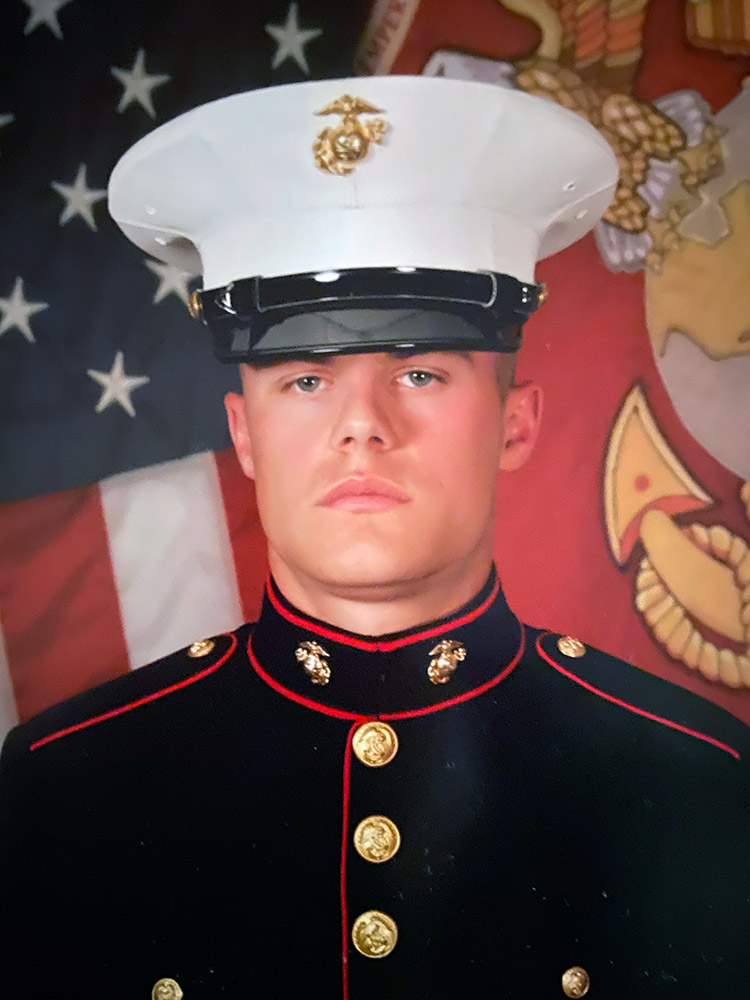 "Amazon is a results-driven company filled with hard-working people," said Fox. "My supply chain degree has presented me with tools and resources that I will undoubtedly refer to while working there. Having technical know-how, as well as theoretical knowledge, will allow me to perform well. RIT also teaches students how to engage ethically within a company. That's so important in the workplace and even in how businesses are reacting to the latest developments in the world."
Four years after graduating from high school, Fox, who is originally from Bristol, N.Y., enlisted in the Marines. He quickly engaged in the "mission first" philosophy and got a taste of logistics management while deploying equipment and tens of thousands of marines and sailors. Fox said his military service taught him how to carry himself as someone who is capable of accomplishing great things.
"I've always been proud of what I've been able to achieve, but my identity had always been wrapped into the Marines. It was time to grow into the person that being a veteran enables you to be. I felt like I was ready for the next phase of my life."
After talking with a fellow veteran about his love for logistics, Fox applied to RIT where an undergraduate degree in supply chain management was in development. He said that although he didn't think that he would attend a technical school, RIT has provided him with the exact education that he needs for his career. In addition to the combination of research and theoretical knowledge, he gained valuable real-world experience during his co-op at CooperVision headquarters in Victor, N.Y., studying its supply chain practices.
"I love seeing things at the aggregate level of supply chain. Everything can be taken from raw materials and sent into production," he explained. "Then the supply chain manager makes certain that the schedule is met and the inventory is held. It needs to get to the right customer at the right price. Supply chain is embedded into every step of a company, and I've learned that there are endless opportunities in supply chain management."
Thanks to his military experience, Fox took advantage of the GI Bill, which provides educational and other benefits for people who have served honorably in the armed forces. "The monthly stipends allowed me to cover my rent while I was in school. The stability that provided enabled me to focus on my performance in the classroom. My hat's off to all of those students who are balancing academics, work, and home stressors, without tuition support."
While at the university, Fox was president of RIT's chapter of APICS, an association for supply chain management and a not-for-profit international education organization offering certification programs, training tools and networking opportunities. He was also inducted into Saunders College's Beta Gamma Sigma national honor society in business management.
"I'm so happy that I was able to open up to another family—the RIT family—after being discharged from the Marines. RIT has enabled me to meet people from all backgrounds, and in all phases of their lives. I have made friends that I will be close to for the rest of my life. I'm so happy that I chose RIT. It's one of the best decisions that I've made."
Another great decision, said Fox, was proposing to his fiancée, Alexis. The couple, who was set to marry this month, had to postpone the wedding due to the COVID-19 pandemic. They are looking forward to exchanging vows next May.