Friday, October 8, 2021 - 3:48pm
Saunders College of Business combines cutting-edge technology, strong business practices, and engineering knowledge, giving students what they need to succeed in competitive industries. Working with The Simone Center for Innovation and Entrepreneurship, students have endless opportunities to get involved and apply real work to their resumes with help from business coaches, professors, and advisory board members. Courses are taught by professors, such as Steven Carnovale, Ph.D., a founder of the LMI Index used by SCM professionals globally to track the latest industry trends, Laharish Guntuka (SCM), Michael Palanski (cross-culture), and Kristin Bain (leading teams) among others who conduct industry-shaping research.
Students in the supply chain management and entrepreneurship minor learn about major economic growth areas that internally create new business, innovate, and drive supply chains. There are several resources students can access, including Center for Urban Entrepreneurship, Venture Creations, and The Construct – All Access Makerspace, used for rapid prototyping. APICS @ RIT, a nationally affiliated club, offers educational programs, networking opportunities, certification exams, scholarships, awards, and other SCM resources. Additional certificates include Lean Six-Sigma Yellow belt certification emphasizing process improvement and project management. Students can win cash prizes and pitch to venture capitalists through RIT's Tiger Tank and Business Plan competitions.
As RIT has one of the most extensive cooperative education* programs globally, students get real-world experience before graduation. RIT places more than 4,500 students with over 6,200 co-op assignments each year. There are opportunities outside of the classroom with 320+ clubs and organizations for networking in addition to one-on-one mentoring from select advisory boards, devoted alumni, dedicated professors, and driven peers. Students can receive institute scholarships alongside state and federal financial aid.
*While on co-op, students are paid, receive credit, and do not pay tuition that semester
Saunders Supply Chain Management Degree
From global shipping networks to next-day delivery packages, students in the supply chain management (SCM) degree learn how to turn raw materials into finished products and coordinate the global creation and distribution of consumer goods. The curriculum covers strategic management, decision making, and negotiation from interdisciplinary courses versatile for any career. Choose electives from RIT's Kate Gleason College of Engineering, and master the integration of technology with problem-solving and organizational efficiency. Before graduation students earn a Lean Six-Sigma Yellow Belt certification through process improvement and project management.
Outside of the classroom, students network with industry experts through APICS @ RIT student organization, part of the national association for SCM. Utilize resources such as Saunders Consulting Group, the Center for Urban Entrepreneurship, Venture Creations incubator, and The Construct - All Access Makerspace. Students also network with local and national members of the management advisory board.
Recent graduates have reported the following job titles:
Supply chain analyst
Purchasing specialist
Sourcing analyst
Operations manager
Procurement associate
Logistics Analyst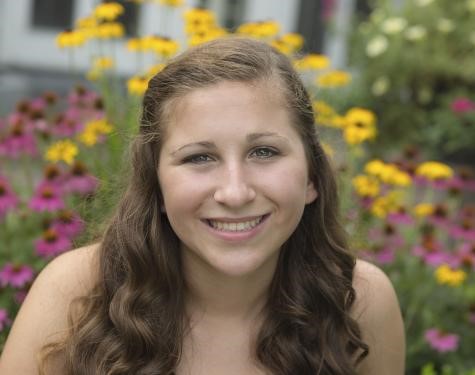 "I appreciate knowing that I have a support system behind me whenever I need help."
Paige Dobrzynski '20 (supply chain management)
Supply Chain Rotational Associate, TE Connectivity
Entrepreneurship Minor
RIT students from any discipline and any of the nine RIT Colleges can select a minor in any of the undergraduate degrees or in entrepreneurship and tailor their education to follow career goals. Students gain unique insights into entrepreneurial aspects such as identifying viable business opportunities, developing effective business strategies, product development, and commercialization tactics, how to seek financial funding, and understanding intellectual property. The Simone Center for Innovation and Entrepreneurship offers opportunities with the RIT Student Incubator, a business development lab, RIT's Tiger Tank Competition, a competition that challenges entrepreneurs to formulate an early-stage business concept and submit a proposal that solves the problem or closes the gap in the marketplace, and more.
Undecided? The business exploration program provides students with a chance to experience various fundamental business courses before choosing a focus. The Freshman Experience: Biz 1+2 is a cohort program that quickly exposes students to all business disciplines where they develop a business plan from ideation to creation within the first year. This prepares students for a wide array of careers and provides the potential for exponential career growth. Throughout the program, students work with RIT faculty, staff, and career advisors to determine the best choice of major.
Many students pursue minors or dual degrees, choosing from over 90 options across all nine RIT colleges, including game design, environmental studies, or one of nine foreign languages.
Teachers and Advisors
Saunders College of Business wants to help support the business initiatives at your school! We offer Zoom in the classroom, free gear for students, free classroom resources, and the opportunity to come to Saunders for a day!
Zoom in the Classroom
Bring Saunders into your classroom for a customized conversation about preparing for a successful business career!  Request a virtual visit with our students, faculty, and staff on topics ranging from admissions, entrepreneurship pitch tips, specialized business topics, etc. 
Free Gear for Students
Inquire today about the business programs available at Saunders and receive free gear!
Free Classroom Resources
Saunders can sponsor your business learning activities. Inquire today for personalized information and giveaways for your DECA chapter's students. Tell us what business disciplines your class is most interested in by emailing us at communications@saunders.rit.edu. Be sure to include your class list as well!
Saunders Field Trip
If your school is close enough, we can invite you for an all-day field trip to Saunders College of Business at RIT. This is a popular activity where you and your students enjoy a visit to our campus that includes a faculty presentation, a tour of the RIT campus, and interaction with current students.
Saunders College of Business at Rochester Institute of Technology
Saunders College provides students with a comprehensive understanding of business while utilizing RIT's vast resources in technology. The core curriculum provides business students with the knowledge they need to succeed in their field, and courses are designed to reflect the latest trends and business needs. Electives can additionally be chosen from any of RIT's nine colleges to tailor degrees towards career goals.
RIT is also the home to one of the world's first and largest cooperative education programs, allowing students to do paid work and gain hands-on experience before they graduate. More than 4,500 students completed over 6,200 co-op assignments each year and are employed by more than 3,400 employers throughout the U.S. and abroad. With a growing global network of more than 25,000 Saunders College alumni and 136,000 RIT alumni, students can make connections almost anywhere and are encouraged to meet with devoted alumni, dedicated professors, and driven peers.
Saunders is in the top five programs in New York State, ranking #74 nationally for undergraduate business programs in the U.S. News & World Report "Best Colleges" rankings. Apply today to become eligible for scholarships and join the Saunders community!