Tuesday, October 27, 2020 - 3:43pm
The supply chain management (SCM) program at Saunders College of Business combines cutting-edge technology, strong business practices and engineering, giving students the knowledge to succeed in this competitive industry. They are taught the latest trends and software in state-of-the-art facilities by top faculty and industry practitioners with leadership from the Management Advisory Board. Students learn engineering first-hand through taking electives with RIT's Kate Gleason College of Engineering.
Students can network with industry experts throughout the program by joining student-run organization, APICS @ RIT, part of the national association for SCM, or participating in the world's largest cooperative education program. They can also earn a Lean Six-Sigma Yellow Belt certification, which provides tools and skills for continuous process improvement and project management.
Saunders provides resources such as the Saunders Consulting Group, Center for Urban Entrepreneurship, Venture Creations and The Construct – All Access Makerspace, used for rapid prototyping. These centers of excellence help students build their careers while in college to get a head start.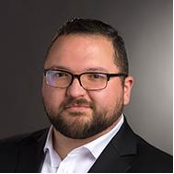 "Supply Chain is an excellent field, and a fantastic career as the trajectory is diagonal. Professionals can bounce around between production, logistics, operations, sourcing, etc. as there is usually a 'zig-zag' path to the professionals' ultimate goal. People tend to be able to explore their options and interests more comprehensively throughout their careers. Through COVID-19, we've seen how resilient the supply chain has been. The need for talented professionals will only continue."
Steven Carnovale, Ph.D.
Assistant Professor of Supply Chain Management
Logistics Managers' Index
Supply chain industries provide services that encompass multiple aspects of the economy and product creation. From raw materials to finished products, SCM is in on the action. Harvard Business Review published that "The U.S. supply chain contains 37% of all jobs, employing 44 million people. These jobs have significantly higher than average wages, and account for much of the innovative activity in the economy." Supply Chain Dive reports that supply chain median salaries are 24% higher than the national median.
The supply chain management program is perfect for aspiring:
Supply chain managers
Business analysts
Manufacturing specialists
Logistics directors
Supply and demand planners
Operations specialists
With a 94% career outcome rate, Saunders can give students the skills and the network to succeed. Apply today!
Saunders College of Business at Rochester Institute of Technology
Saunders College provides students with a comprehensive understanding of business while utilizing RIT's vast resources in technology. The core curriculum provides business students with the knowledge they need to succeed in their field, and courses are designed to reflect the latest trends and business needs. Electives can be chosen from any of RIT's nine colleges to tailor degrees towards career goals.
RIT is home to one of the world's first and largest cooperative education programs, allowing students to do paid work and gain hands-on experience before they graduate. With the dynamic network of more than 25,000 Saunders College alumni and 130,000 RIT alumni, students make a global impact! Saunders College of Business is #1 in Western New York, ranking #67 nationally for undergraduate business programs by U.S. News & World Report, 2021.