Thursday, November 7, 2019 - 9:05pm
The United States has dedicated the month of November to celebrating Native American Heritage Month (NAHM) every year since 1994. For Jessika Quijada, a second-year business management student, NAHM is a time to not only remember her history, but to also spread awareness about Native cultures as they exist today.
From Houston, Quijada didn't always have strong ties to her Native heritage. She and her mother always claimed their Native lineage, but they weren't able to be "participatory in the culture." As she got older, she has worked to reclaim her Native identify by learning more about her tribe for her own, and her mother's, benefit.
At RIT, Quijada found a community of fellow Indigenous people whom she has bonded with and learned from. As president of the Native American Student Association (NASA) and chapter president the American Indian Science and Engineering Society (AISES), she is passionate about sharing her culture and showing the community that Native Americans don't simply live in history; their cultures are alive and thriving today.
To celebrate NAHM, the Native American Future Stewards Program and NASA are hosting a number of events that are open to the public, including the Canandaigua Treaty Day Commemoration, a NAHM Keynote presentation by Mariah Gladstone and Friendsgiving.
To learn more about the NAHM events, visit the RIT Native American Future Stewards Program's Facebook or Twitter. For more information about how to get involved with Indigenous student groups, go to the Native American Future Stewards Program website.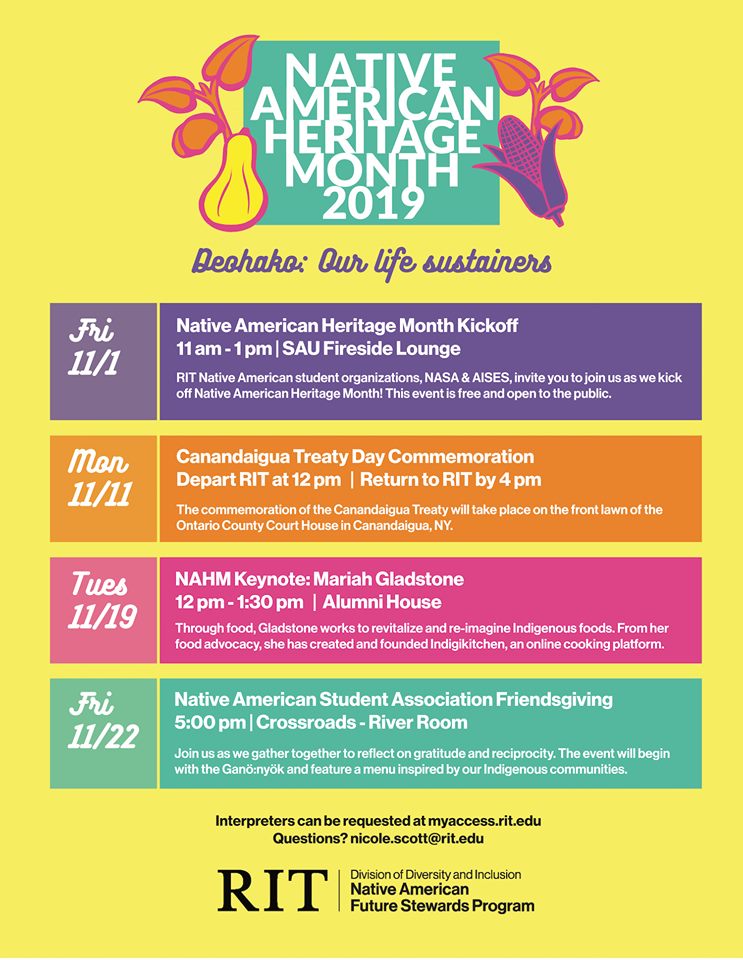 What is Native American Heritage Month and why is it important?
Native American Heritage Month (NAHM) is a month dedicated to recognizing and commemorating the history of Native peoples in the United States, and celebrating where they are now. A lot of people don't recognize or realize that these communities are still here and thriving—that they exist. It's important in general to start that conversation. Something that non-Indigenous people don't often realize is that, as a community, recognition of contemporary Native culture is a problem that we face and discuss often. We're often painted as invisible and aren't even given a seat at the table to be a part of larger conversations, and this month gives us that platform. To me, that's the most important part of NAHM.
How are NASA, the Future Stewards Program and other groups on campus celebrating NAHM?
We are celebrating through a few different events. We always have our kick-off at the beginning of the month so people can come and see the faces of the Natives who are on campus and it's always a lot of fun. Then, coming up, we have Canandaigua Treaty Day. It's always on Nov. 11, and, unfortunately, it's on a Monday this year, but they are still providing transportation. That event is really nice to go and have a conversation about the history, and also to be with other Native people. We also have a keynote speaker every year, and being able to talk to Native professionals and hear about their experiences is always a lot of fun. The theme of our history month this year has to do with Indigenous food, so we will be talking about what the food means to Haudenosaunee culture. Our keynote speaker, Mariah Gladstone, founded Indigikitchen, and she takes recipes and makes them but with Indigenous ingredients. She will be doing a demonstration of a recipe and then we will have a larger portion of the dish ready for people to actually eat while we have that conversation with her. She's actually a Ph.D. student studying not too far from here and she is someone who we can kind of look up to. She is in a position that we're in as students, but she's also doing something that is so cool and connected with our culture.
What can people expect when they come to these events?
A lot of our events are meant to start a conversation and encourage people to talk to and learn from each other while having a good time. Like with our keynote speaker, she's going to be demonstrating this recipe which is really interesting, but we will also be discussing the background and purpose of why she's doing this and what that means to her and Native communities. For Friendsgiving, we're preparing a meal and really urging our ALANA affiliates to come. We want everyone to be involved and we want everyone else to be aware of NAHM, so this is an opportunity for us to really connect and start a cross-cultural conversation. We can talk about Thanksgiving and alternative Thanksgiving options. We do have a turkey, but our sides are more inspired by Indigenous foods. We want to highlight the truth about it and what it means to Native people. So, having food, being able to relate over it and talk a little bit about the history of Thanksgiving is a great way to highlight that.
Why is it important for you to celebrate NAHM with your Native peers?
Within this period of time, there are a lot of things that Native people are going to see that can be harmful or difficult for them. We see a lot of things, like offensive Halloween costumes and Thanksgiving portrayals, that can make things hard. For students, midterms are coming up and finals are creeping around the corner, so if you're walking around campus and you see someone in an offensive Native American costume, you can feel made fun of and invalidated. Having this space where we can let out these frustrations with people who understand is very important. Even if you were in a space where you could talk to other people of color, they don't necessarily understand what that's like for you as a Native. So, it helps to be with other people where you don't feel like you have to explain yourself or validate why you feel the way you feel. They just understand.
How do you hope non-Indigenous students will benefit from attending these events?
I hope that they can learn something new about Indigenous culture. I hope they get a chance to enjoy new experiences and that they know they are always welcome to come back and celebrate more things with us. We hope that if there is anything that they learn and are surprised by, that really takes them back, that they share that information. I think it can be easy for Native students to feel alone. If you are someone who is educated and can help speak out for us, it's so helpful in the classroom environment. I just hope people understand how important it is to be an ally and to be there to speak up when we (marginalized people) don't feel like we can. Not everyone has the ability to speak up, it can be really hard to do that and emotionally draining. When you have someone else there with you, it's so helpful.
Why do you think having these vibrant groups representing different cultures, ethnicities and religions on campus is important?
Everyone deserves to have a space. It's just how it should be. Being at a place like RIT, a historically white institution that's dominated by white culture, it's more than fair that we are given these spaces in order to thrive and succeed. Everyone is different, so being able to have these outlets and be helped in the way that you need to be helped, or you need to be supported, is extremely important. The way that I need to be supported is nowhere near the same as a black student needs to be supported or a Muslim student needs to be supported. Everyone should be given their own space to be supported, and I'm glad that we have that space here.