Wednesday, October 2, 2019 - 7:55pm
Lauryn Fulton, a third-year hospitality and tourism management major in Rochester Institute of Technology's Saunders College of Business, has won the Statler Foundation Scholarship of Excellence. This is the ninth consecutive year that the Statler Foundation has recognized an RIT student as the recipient.
The national scholarship, valued at $25,000, is awarded to students who excel in hospitality management programs, demonstrate leadership potential and who plan to pursue careers in the hospitality or tourism industries after graduation. Only a handful of hospitality and tourism programs across the United States are invited to nominate students to receive the scholarship.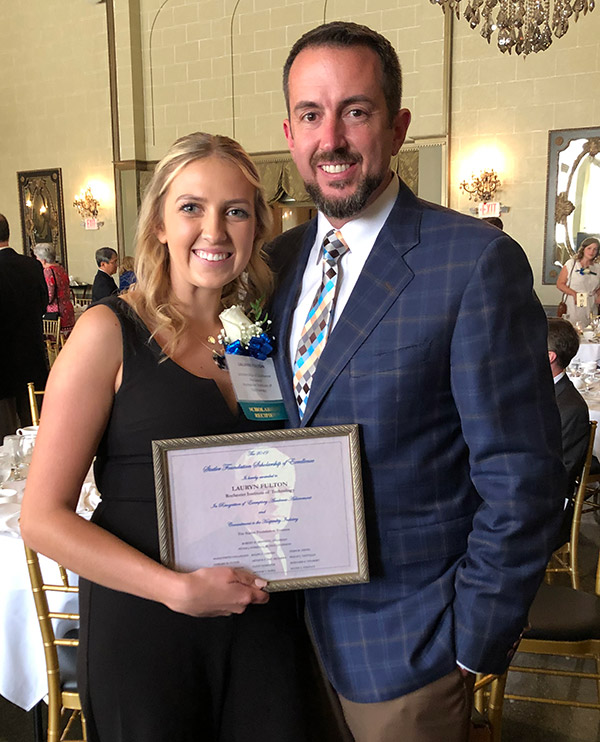 Fulton started at RIT as a computer science major but changed to hospitality and tourism management, finding a way to incorporate her love of math into her studies. She has an affinity for data analytics and credits her professors and classes in strategic planning and business law with providing her with the ability to understand the industry as a whole.
"My father owns a business in the hospitality and tourism industry, so I was always exposed to this growing up," said Fulton, a native of Geneva, N.Y. "One day, I plan to take over his business, which uses computer programs and analytics to price property rentals and rates. I also love the flexibility of setting your own schedule as a business owner, while providing a valuable and customizable service."
In addition to a co-op in a restaurant environment, Fulton has enjoyed a study abroad opportunity in Croatia, understanding the ecology of the region and how tourism has changed. She is also a member of Zeta Tau Alpha sorority and the Hospitality Financial and Technology Professionals association.
Carol Whitlock, a professor in RIT's hospitality and tourism management department, knows Fulton well. "Lauryn was a student in one of my classes this year and she was selected by all department faculty as a worthy candidate for the Statler Scholarship of Excellence. She is a gracious and personable young woman who fits the hospitality industry well. She has a strong work ethic, is detail oriented and will do well in the hospitality industry."
The Statler Foundation, established in 1934 in Buffalo, N.Y., originated from the estate of hotelier Ellsworth Statler. Its purpose is to provide education and conduct research for the benefit of the U.S. hotel industry and to increase the proficiency of hotel workers. The foundation also supports culinary arts and hotel management programs.