Thursday, April 18, 2019 - 7:50pm
Saunders College of Business alumnus Jake Torcello towers over the third-grade students at Helen Barrett Montgomery School No. 50 where he volunteers each spring. But the youngsters aren't intimidated. In fact, they are engaged by Torcello's lesson about entrepreneurship, budgets, and the pitfalls of "invisible money," like credit cards.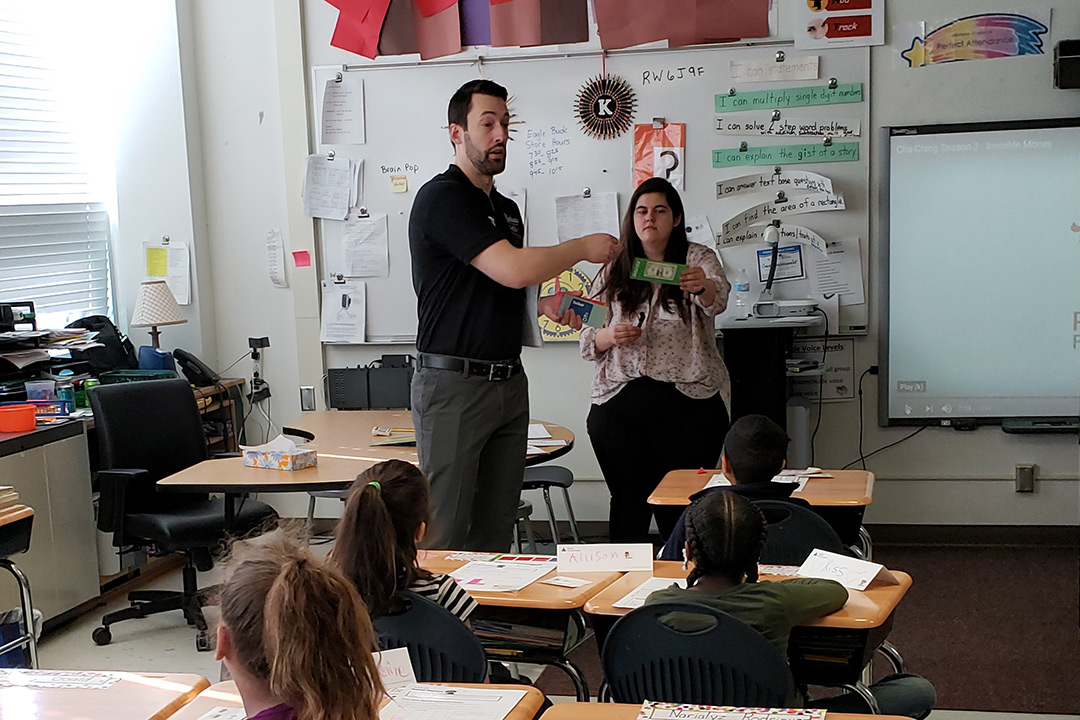 Kit Tornatore/Junior Achievement
Since he was a student at Saunders, Torcello '09 (marketing) has been part of a unique community collaboration among the college, Junior Achievement and local elementary schools that introduces young minds to business, economics and free enterprise through discussions, hands-on activities and video lessons. For the 14th straight year, the three groups brought together RIT alumni, students and local business professionals, including many from corporate sponsor Carrier LenelS2, for an all-day learning marathon to educate K-6 children at School No. 50.
"It feels so good to remain connected to RIT," said Torcello, general manager of the Nathan's Soup and Salad chain. "And although it makes me feel really old, I come back every year. The kids are a blessing. If I can help them learn how to be smart with their money and save, it's worth it."
Maddie Tremblay, a second-year new media marketing and management information systems double major from Park Ridge, N.J., was one of 19 Saunders College students who participated in the program this year. In addition to focusing on her studies, Tremblay is vice president of service of Delta Sigma Pi business fraternity at RIT and said that volunteering is one of her core values.
"I really value opportunities like this that allow me to give back to the community," she said. "It would have been great to have a program like this when I was growing up – just to have the chance as a child to interact with college students. I love being able to expand the kids' knowledge of careers in business, and even have them leave with the idea that they can own their own businesses."
Peter Rosenthal, senior associate director of student services at Saunders College, founded and helps manage the program. He loves when Saunders College students volunteer and then return to the program as alumni-turned-business professionals.
"This program touches on so many values and initiatives that are important to us in higher education and in the community," he said. "Returning to an elementary school each year demonstrates our commitment to cultivating the minds of the children in the Rochester City School District. As they interact with our Saunders students, we're demonstrating how important it is to stay in school and attend college or a vocational program and be productive members of our free market system. This program also connects our Saunders students with our alumni and other business professionals who share career advice and sometimes even interview them for co-ops and full-time jobs."
Sixth-grader Angela Alexander has welcomed the program to her classroom in the past, and this year is learning about trade, profits and consumer behavior. She hopes to one day run her own fashion business selling hats and dresses. "This is really fun. I'm learning how to open a business and I'm also learning the meaning of lots of business words."
Kimm Proctor '06 (applied arts and sciences), a compliance officer at ESL, is a longtime Rochester City School District volunteer and joined 10 other RIT alumni who helped with the program this year. "With the emergence of our global market, it has become increasingly important to teach these youngsters that these topics will impact them and define their roles, and that they can have a voice as customers, professionals or business owners. That's why I get involved. It has become my purpose."