Friday, November 8, 2019 - 9:25pm
Entrepreneurship took center stage Nov. 7 at RIT at the 15th annual Entrepreneurs Conference, co-sponsored by Saunders College of Business and Albert J. Simone Center for Innovation and Entrepreneurship, featuring informational networking sessions, a student business pitch competition and a keynote address from a strategist at one of the world's best-known ridesharing companies.
"RIT students are known for being self-starters, makers and innovators," said Anthony Testa, director of Simone Center Commercialization Training. "As a result, RIT is committed to teaching the concept of entrepreneurship and its essential skills to help foster their zest for creativity and innovation. This conference is a perfect way to introduce entrepreneurship experts to students from all majors and disciplines who share a love of entrepreneurship, while inspiring future entrepreneurs to seek sound advice or perhaps even take the leap into business ownership."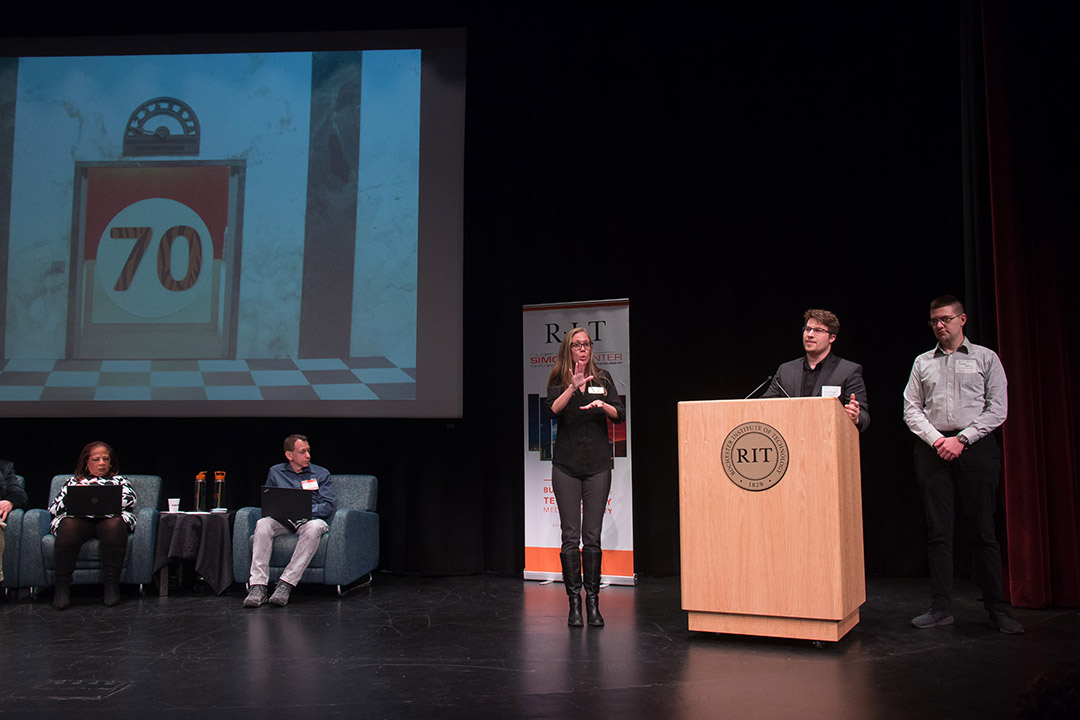 Benjamin Adepoju
Thirty student teams each pitched its business ideas to a panel of judges during the Tiger Tank competition in Ingle Auditorium in hopes of winning a cash prize to help fund the ideas. In this round of the competition, each team presented 90-second "elevator pitches." Business ideas included an aeroponics system that uses cloud technology to allow individuals in urban areas to configure environmental settings to grow plants; an assistive carrying device designed to build independence for those people living with disabilities; and a travel toothbrush with a built-in set of components including brush, tongue cleaner, flosser and toothpaste storage compartment.
Winners of the competition were:
First place: Confoodence, a swab that helps identify allergens in food such as tree nuts. James Sheeler, an industrial design student, is the student developer of this project and walks away with a scholarship toward a graduate program in Saunders College and $2,000.
Second place: Will Byron, a biomedical engineering student, pitched his team's idea for X-ray technology software that provides advanced and affordable medical imaging with the capabilities of CT scans. Byron and his team won a scholarship toward a graduate program in Saunders College and $1,250.
Third place: Mic Tap, created by Kevin Booker, a student in the School of Individualized Study, is a hardware device that attaches to any microphone to provide real-time live-captioning during events. The device attaches to the microphone and pairs via Bluetooth with any live-streaming software to output an on-screen text file of the users speech. Booker receives a scholarship toward a graduate program in Saunders College and $750.
Fourth place: Ross Redevelopment, created by Eric Jones, a construction management student at Monroe Community College, is a property development firm that focuses on redesigning and renovating multi-family homes with special amenities accommodated for deaf and hard-of-hearing renters. Jones won $500.
Fifth place: FireSafe, a sleeve secured around a firehose that directs disoriented firefighters to safety by using textures and visual aids, was created by Frankie Aiello, an industrial engineering student. Aiello won $250 for his idea.
During the conference, there were several workshops discussing entrepreneurship including "Legal Considerations and the Entrepreneur," "Tech Entrepreneurship," "Funding Your Entrepreneurial Venture," "What is Entrepreneurship? Why is it Important to Me?," "RIT Student Entrepreneurs," "Marketing and Social Media," and others.
RIT alumnus John Lemp '03 (information technology), founder and CEO of Revcontent, talked about his experience as an entrepreneur, his life as a "failure," and his perspective as an entrepreneur living a life of purpose.
"Throughout my life, the biggest thing I've learned is a new perspective on failure," he said. "Failure is a powerful word that stops people in their tracks and creates fear — and fear destroys creativity and imagination. Failure should be replaced with grace, which is one of the most powerful forces."
Lemp also challenged students to leave their comfort zones and consider small changes that can be implemented today that move them to where they want to be.
"The only way to make an impact is to learn from every failure," he added. "The idea of perseverance is built from trial and tribulation and it's also where character is built. The only way to make an impact is to be willing to experience trial. When I look to hire people, I find people who are motivated and selfless and who care about making an impact. Think about how you can impact the world and how you can impact people. Be different and be happy."
The conference concluded with a keynote presentation from Meena Harris, head of strategy and leadership at Uber, and the featured Gasser Lecture speaker. Harris is also a commissioner on the San Francisco Commission on the Status of Women and was a former data privacy and cybersecurity attorney. Last year, Harris launched the Phenomenal Woman Action Campaign, a women-powered civic engagement platform.
In her presentation, "Leading with Power and Purpose," Harris talked about her experiences as a power player in activism and positive business initiatives. She also offered words of wisdom to the students in the audience.
"For students who are looking into creative fields and entrepreneurship, I would tell them to follow their passions," she said. "We often get stuck in academic context or career context, really needing to know where you're going and what the plan is – checking of the boxes. Give yourself the latitude to explore. Be open to opportunities as they come to you."
Regarding leadership, Harris said, "Besides having a strong vision, I believe that it's important to lead with authenticity and intentionality around things that matter to you. Be yourself and trust your gut. Be self-aware and open to growing. Leadership is an ever-evolving growth journey and there isn't a right way to do it. Adapt and connect with people in real ways and treat them fairly."